To provide an added balance, Jeremiah Owyang has contributed the view from the analyst's perspective…
To download these images go to Flickr for Analyst Relations (from @jonnybentwood) or Analyst (from @jowyang)
Filed under: analyst relations
|
6

Comments
Tags:
analyst relations
,
what i do
Fishing where the fish are is something that bears have known for years but many folk who use Twitter seem to have forgotten. We cannot simply think our message will be heard by tweeting ourselves which is why we try and target influential people via tools like TweetLevel and BlogLevel.
However, this isn't the only way of doing it. What I have been doing successfully over the past year is taking part in twitter chats. These are regular conversations that take place about a specific subject on twitter normally for an hour and owned by a specific hashtag.
For example,
· if you are targeting the SME market then look no further than #smallbizchat
· If you are focussing on innovation then #Innochat on Thursdays is the one for you
· Are you a small business that uses LinkedIn (client) – why not use the chat that shares best ways for businesses to use this service on #linkedinchat
My personal favourites are #influencechat and #measurepr – but suggest you look at this larger list to see which ones can help you
Any questions, just chat with me @jonnybentwood
End note: My thanks to Judy Gombita for pointing this list out to me who also wants me to plug Windmill Networking #PR column Wed, Social Capital Byte: Institutionalizing Parity in B2B Relationships
Filed under: analyst relations
|
3

Comments
Tags:
chat
,
twitter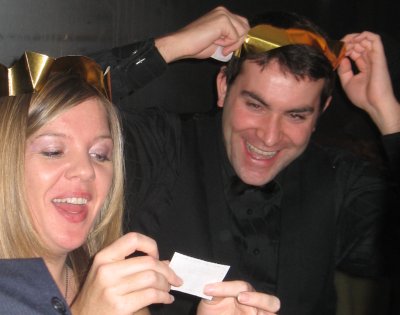 T'is the season to be jolly and take part in a quiz or two. These jokes come from the very best of the crackers – we tried this in the office and it didn't take long for the groans and guffaws to filter their way back to my desk. How long will it take you to get all 15 answers…
Why was the AA man crying? He was heading for a B______
I tried ringing the Swine Flu Helpline, but all I got was C_____
What's the difference between snowmen and snow-women? S______
What's the quickest way to kill a circus troupe? Go for the J______
As Sean Connery said when some books fell on his head, "I've only __ ______ to blame"
The scarecrow was awarded the OBE for being O_______ in his F_____
Who is the coolest guy in the hospital? The U___-S____ guy…
…and when he's on holiday? The H____ R________ guy
Statistically most dwarves are sad, __ out of ___ aren't _______
Where do you find a tortoise with no legs? ______ you  ______ ____
A termite walks into a pub and asks: "Is the B__ T______ here?"
How does Bob Marley like his doughnuts? W'_____ _____…
…and what about the Wailers? Well, they ____ ______ ___
Why did Santa call the Mind Helpline? Because he was worried about his M_____ E____
I bought a litre and a half of Tippex yesterday – _____ _________
Filed under: blogging
|
1

Comment
Tags:
christmas
,
humour
,
joke
,
quiz
Obviously not meant to be taken seriously – hope you like.
For previous puns directed at the analyst community – see: Downfall: Gartner MQ, view on YouTube
Filed under: analyst relations
|
1

Comment
Tags:
analyst relations
,
humour